NEW VIEWING TIMES ALERT !
Starting in July, Songs of Freedom will be seen on TV at new times in both Queens and Brooklyn. For details click on
Upcoming
TV Episodes
~~~
including
The Day The Earth Died!
photos and more
and
The Third Annual
Woody Guthrie Birthday Bash !
photos and more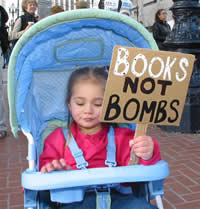 Also, check out:
Eric Blumrich Animation at
www.bushflash.com
~
Save The Date!
August 29, 2004,
The World
Says No
to the
Bush Agenda
Here are two websites for planning what we can do when the Republicans come to NYC in late September.
Check it ou!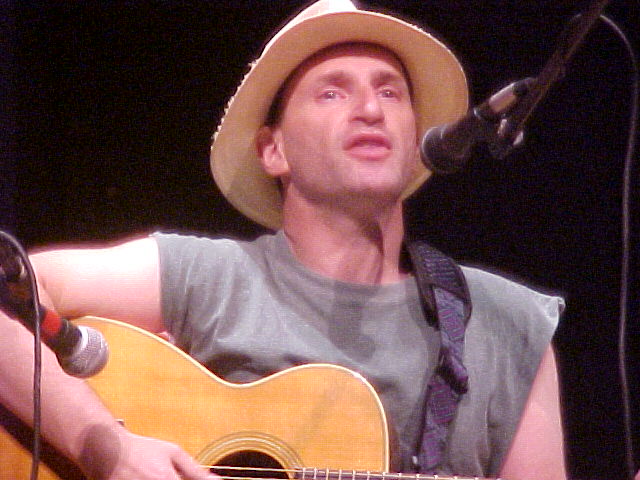 ~~~
HOWDY FOLKS!
What FUN we had recently at Manhattan's 22-Below Cabaret !
It seems that my friends at the Manhattan Neighborhood Network are in possession of one of those inflatable punching bags that you can knock down and otherwise abuse but then it stands back up. I remember having one that looked like Bozo the Clown when I was a little boy. The one over at MNN was made in the image of George W. Bush.
I invited blow-up Georgie on stage where I performed some fairly decent acts with him.
All in the name of peace, of course.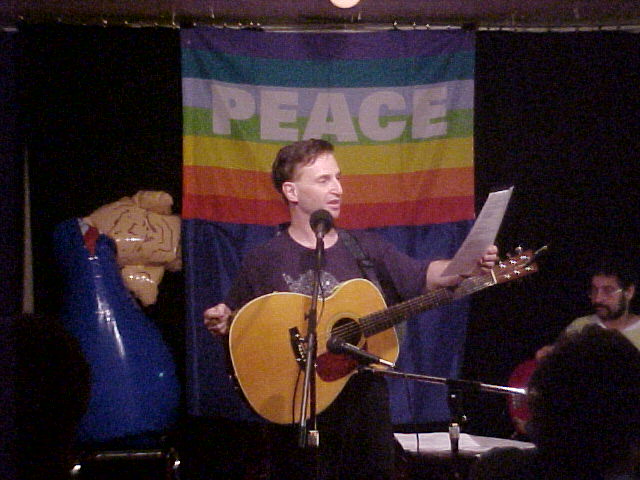 As you can see, George is not quite as inflated as many think he is. He needed help all evening from myself and my friend Molly Millions to stand on his own. 22-Below Cabaret host Shawn Norton had the best line of the night when he said that he could just imagine the newspaper headline,
"Couple arrested for attempting to blow up the President."
I am pleased to report that nobody this night was arrested for engaging their First Amendment privileges. The 22-Below Cabaret became a spirited and safe First Amendment Zone where along with the laughter free copies of the First Amendment were given away to everyone in attendance.
Giving away the First Amendment to folks attending my shows is something I have been doing for years. I kid with my friends to hold onto it and not to lose it. Somehow that joke isn't as funny as it use to be...
That's it for the most recent siting of Joel Landy and Friends. Stay tuned to this webpage for upcoming gigs, demonstrations, and what we can all do together to beat Bush in November.
peace and regime change,
joel
Sunday, July 11

The Fourth Annual
Woody Guthrie Birthday Bash
at
CB's 313 Gallery, NYC
$5 7-9pm
~~~
Join me and my friends for our annual Woody Guthrie Birthday Bash the CB's 313 Gallery, located in New York's City's Lower East Side, easily accessible by subway (6 train to Astor Place, R/N/W trains to 8th Street).
This year the lineup includes individual performances by Steve Suffet, Anne Price, Eric Levine and myself. We also appear together as the MacDougal Street Rent Party.
In addition, you'll see performances by the multi-talented Gina Tlamsa, Chris Lang and Jessica Feinbloom.
It's a celebration of Woody's music and his impact on current singer/songwriters who continue to carry the torch of social commentary with their art and voice.
It's also a lot of fun and a good old hoot of a time.
The five dollars you pay to get in lets you stay all night and see the other acts too.
Such a deal!
I'll be looking for you.
See you there!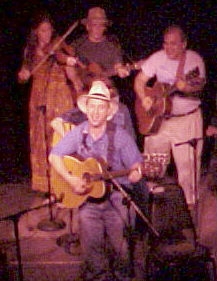 Songs
George W. Bush Inaugural Theme (What a Wonderful World!)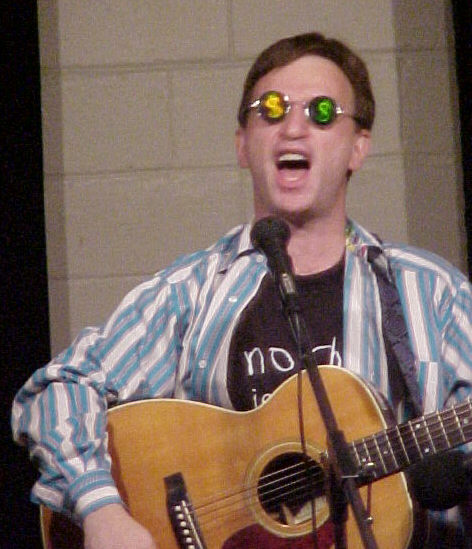 JOEL LANDY
INSPIRING
ENTERTAINMENT
"He's a real live wire!"
― Pete Seeger
To be notified about upcoming concerts and TV episodes, join the mailing list. click here
~
~~~
That's Oil, Folks!
When George Bush is dead and gone,
And Richard Cheney too,
Do you suppose they'll decompose
To make some fossil fuel?
It's hard to say, 'cause it's today
And lots of time must pass.
But I bet you this –
You'll still be pissed
And they still will give me gas.

!